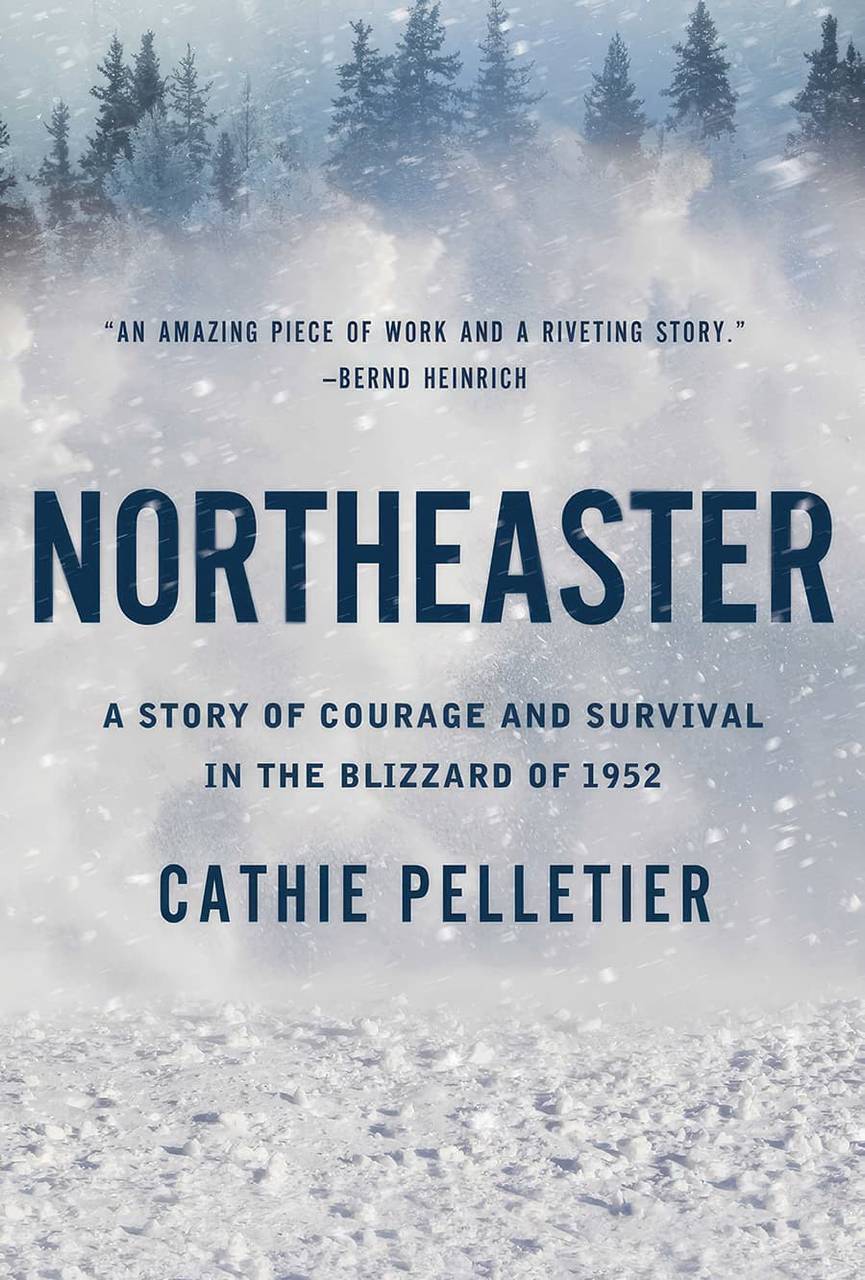 The University of Maine at Fort Kent book club will host a reading and book signing for award-winning author Cathie Pelletier's newly published book on March 28th at 6 p.m. in the Nadeau Hall conference room. The event is free and open to the public.
Northeaster, A Story of Courage & Survival in the Blizzard of 1952 was published by Pegasus Books/Simon & Schuster in January.
"With some of us being writers ourselves, we know how difficult it is in the publishing industry. To get just one book out could take years of rejections. To meet Cathie Pelletier, a successfully published author, we are able to discuss not only the content of her book but also the adventure she went on through writing the book. For our small group here on campus, it means a lot for someone as successful as Cathie Pelletier to visit us," said Mercedes Martin, president of the UMFK Book Club.
Cathie Pelletier is the author of twelve novels, beginning with The Funeral Makers, published by Macmillan in 1986. She and theoretical physicist S. James Gates, Jr. (a National Medal of Science recipient) co-authored Proving Einstein Right, released in 2019 by Public Affairs. Praised by Walter Isaacson, the book was awarded the Brown University Book Award for 2020. Also released in 2019 is The Ragin' Cajun, a memoir she wrote with legendary fiddler Doug Kershaw (Mercer University Press).
Producer Gabrielle Tana has recently optioned Pelletier's novel The Funeral Makers for Doug Liman to direct and Pelletier to adapt. Her screenplay, The Luna Christmas, has been optioned by actor Donald Sutherland. She has worked on several film projects with Grammy-winner and AFI founder George Stevens, Jr.
Under the pseudonym of K. C. McKinnon, Pelletier wrote Dancing at the Harvest Moon and Candles on Bay Street, both with Doubleday, the latter earning a million-dollar advance. Harvest Moon was printed in 22 languages and was a CBS film starring Jacqueline Bisset and Valerie Harper. Candles on Bay Street was translated into 16 languages and was a Hallmark Hall of Fame film starring Alicia Silverstone.
Two of her Pelletier novels received notable mentions from the New York Times Book Review. Her third, The Weight of Winter, won the New England Booksellers Award. In 2006, Running the Bulls won the Paterson Prize for fiction. Her first middle-grade novel, The Summer Experiment, was published in 2014.
Pelletier was privately hired to write a memoir, now finished, that centers on the Vietnam War. She also created and sold to Simon & Schuster a book for country music icon Tanya Tucker, titled 100 Ways to Beat the Blues. She co-wrote The Christmas Note with her friend, and Grand Old Opry legend, the late Skeeter Davis. She has co-written songs that were recorded by David Byrne (of the Talking Heads), the Texas Tornadoes, and others. She and Tanya Tucker are working on a children's book.
A middle-grade book, Mystery Traveler at Lake Fortune and Evangeline, a prose version of the Longfellow poem, are coming by Down East Books this July.
Books will be available to purchase at the UMFK campus store starting March 20th and at the event.
For more information on the event, please contact the University Relations office at 207-834-7557.