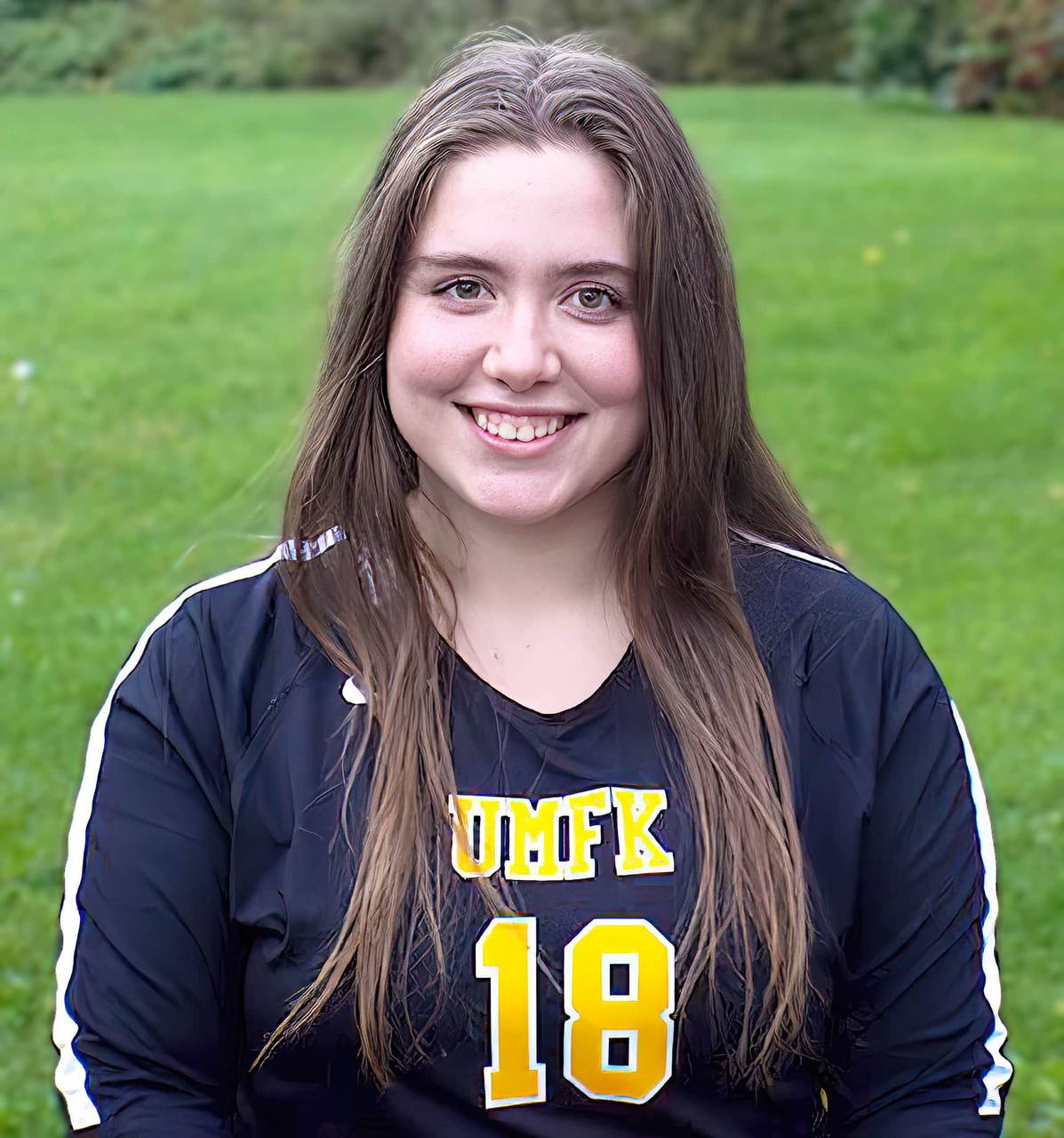 The University of Maine at Fort Kent was well represented with awards for high-achieving athletes and coaches at the 2022 USCAA National Conference in November.
Jermaine West: USCAA Women's Soccer Coach of the Year
Jermaine stepped in to fill the head coach role late into the season but made an immediate impact. His players connected immediately, and they hit the ground running with a successful season that ended with
the USCAA National Championship title.
"This is not a team; this is a family. Coaching this group, I couldn't ask for anything more. It was a pleasure to work with this group of ladies, and if I could go back and do it all over again, I would without
hesitation," said West.
Tara Kelley: USCAA Women's Volleyball Coach of the Year
2022 was Tara's second season. In addition to a 16-game win streak, she elevated the volleyball program to a runner-up finish. She was able to mix in several new athletes with the returners and create a cohesive group.
"This team was built differently from the start," said Kelley. "They have the leadership, encouragement, positivity, and energy that every team strives for. With every game, win or loss, they found positives that
they reflected on. They also found things they individually needed to work on."
Beatriz Garrido Jaramillo: USCAA Student-Athlete of the Year
Beatriz (Bea) is slated to graduate in the spring of 2023 with a bachelor of science degree in Behavioral Science (MHRT/C concentration) with a minor in Criminal Justice. The senior volleyball setter is not only
a leader on her team but also serves as the SAB president, student senate secretary, and helps out anywhere she is needed. Her high GPA also has her on the All-Academic Team.
"Bea is a great ambassador of UMFK. She embodies everything you want in a student-athlete," said UMFK Athletic Director Carly Flowers. "She is a good teammate and heavily involved on campus. I
have enjoyed getting to know Bea and watching her compete. This honor is very much deserved!"
MEN'S SOCCER USCAA AWARDS
2022 USCAA NATIONAL CHAMPIONS
USCAA Academic All-American Team*
Aaron Boateng (Senior)
Marcel Holness (Senior)
Ronaldo Watson (Senior)
Vaughn Kelley (Senior)
Adil Iggoute (Senior)
Kevon Maitland (Sophomore)
Asib Khamush (Sophomore)
USCAA All American
Aaron Boateng
Kevon Maitland
John Amoah
Adil Iggoute
USCAA ALL-TOURNAMENT
Markell Holness
Aaron Boateng
Jaheim McIntosh
Ajay Chin
Ronaldo Watson
USCAA Tournament MVP
WOMEN'S SOCCER USCAA AWARDS
2022 USCAA NATIONAL CHAMPIONS
USCAA Academic All-American Team*
Gizela Carranza (Senior)
Tarece Lawrence (Senior)
Angel Maxwell (Senior)
Ryan Hernandez (Senior)
Julia Audunsdottir (Sophomore)
USCAA Division I Women's Soccer National 1st Team All-American
Sophia Noe
Chelsea Thornburgh
Isabel Kiledjian
Tarece Lawrence
2022 USCAA All-Tournament Team
Naylea Beltran-Mendoza
Tarece Lawrence
Chelsea Thornburgh
Dominique Valadez
2022 USCAA Tournament MVP
WOMEN'S VOLLEYBALL USCAA AWARDS
2022 USCAA NATIONAL RUNNERS-UP
USCAA National All-Academic Team*
Beatriz Garrido (Senior)
Danae Ford (Senior)
Carla Rodriguez (Sophomore)
Brooke Russell (Senior)
USCAA National 1st Team All-American
USCAA National 2nd Team All-American
* All-Academic Athletes need to maintain 24 or more credits on their USCAA transcripts and hold overall (cumulative) grade point averages of 3.50 (on a 4.00 point system) or greater.
For more information about athletics at UMFK, contact Carly Flowers at (207) 834-7571.