The University of Maine at Fort Kent made a strong representation at the 2022 USCAA Division I National Championships with both the men's and women's Bengal soccer teams as well as the women's volleyball team making the playoffs. All UMFK teams entered the tournament as the #1 seeds. Both of the Bengal soccer teams brought home national titles and the UMFK volleyball team gave a strong representation with a second-place finish.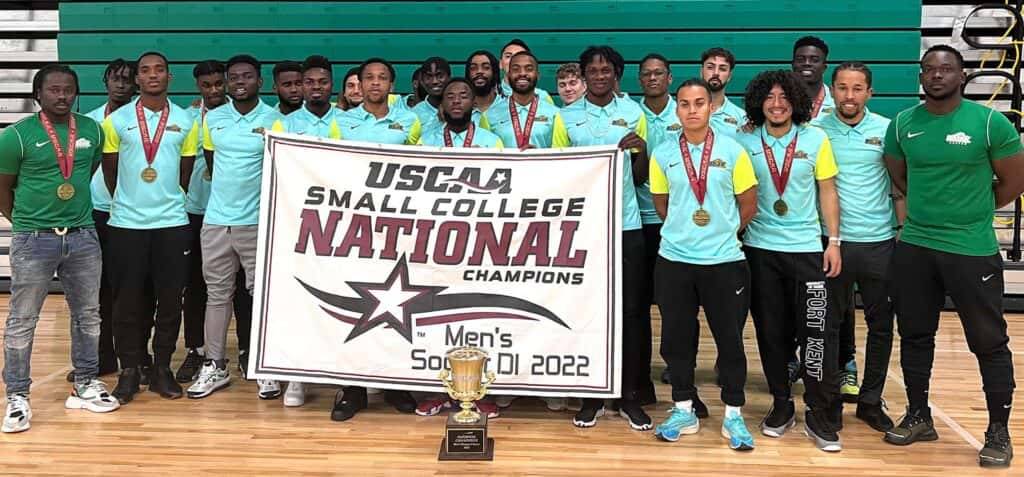 Men's Soccer Highlights: After a memorable season, the UMFK Men's Soccer team came off the field with the esteemed USCAA Division I National Championship title. This was the third attempt at the finals since Head Coach Oniqueky Samuels was appointed to his position in 2018 to give him and his nine seniors their first victory.
In 2021, the Bengals lost on penalty kicks against the same opponent — Bryant and Stratton – Syracuse, and the team felt the additional pressure when the outcome once again came down to penalties where the Bengals outshot their competition.
"The team played a high-energy game that was fluent and efficient. Although we did not capitalize on them in regulation, we moved the ball well and created many good scoring opportunities," said Coach Samuels, "Even though it was nerve-wracking to find ourselves in the same situation as last year, this time around, we were able to come out victorious in the penalty shootout."
In the last two championship tournaments (2021 & 2022), UMFK only conceded one goal in regulation time.
The 2022 season prepared the team well with high-level match-ups that proved to be their most challenging season. They played NCAA DI University of Connecticut and St. Francis, NCAA DII Palm Beach Atlantic, Nova Southeastern University, Franklin Pierce and Assumption College, and NAIA Giant: West Virginia Tech. During the regular season game, they also defeated Defending USCAA Champions (Bryant and Stratton – Syracuse) at their home (0-3).
"Our accomplishments this past season were based on our team's chemistry and how well we worked together towards the same goal," said Samuels.
The MVP of the tournament was third-year student and UMFK goalkeeper, John Amoah. He saved three penalties in the final match and held a clean sheet in the finals.
"He is a top-quality goalkeeper and has exceptional talent," said Samuels.
Other honors included All Tournament Team members: Markell Holness, Aaron Boateng, Jaheim McIntosh, Ajay Chin, and Ronaldo Watson.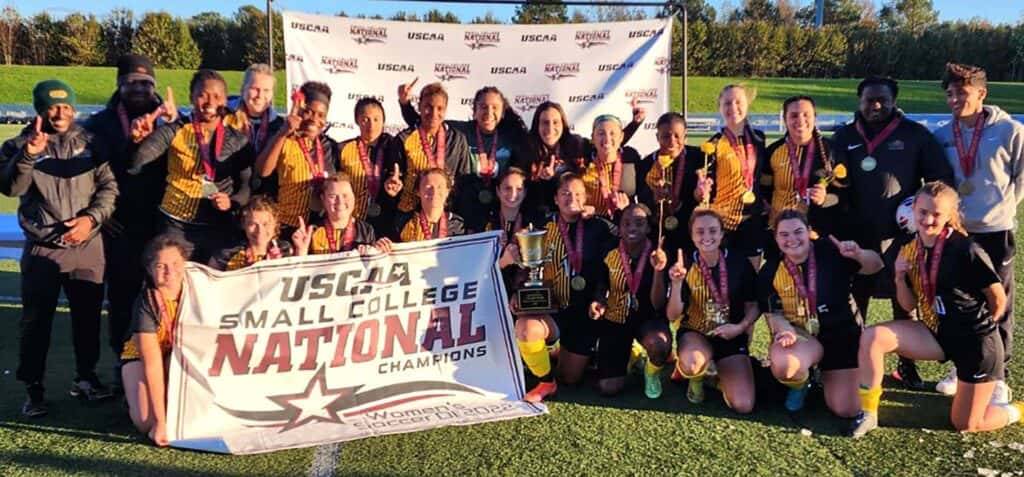 Women's Soccer Highlights: UMFK's Lady Bengals are no strangers to the USCAA Division I National Championships, and this year, they brought home the coveted title for the ninth time. Their opponent, Bryant and Stratton – Syracuse, beat out the Bengals in a disappointing loss in the race for the 2021 title, but the Bengal's hard work paid off and this year's rematch brought redemption to the Fort Kent team with a 1-0 finish.
"This is not a team; this is a family," said UMFK Women's Head Coach Jermaine West, "Coaching this team, I couldn't ask for anything more. It was a pleasure to work with this group of ladies and if I could go back and do it all over again I would without hesitation."
In the well-matched final, UMFK outshot the opposition 14-12. UMFK Goalkeeper Dominique Valadez made four saves to keep the Bobcats at bay.
"Our team showed no sign of giving up because we knew what it meant to us. We gave everything we got," said West.
Attacking Midfielder and sophomore Sage Stroud scored the only goal of the game and was awarded MVP.
UMFK Director of Athletics Carly Flowers noted," Sage is a tremendous player who stepped up when her team needed her most. She works hard and deserves the MVP accolades. I'm very happy for her and the team."
Stroud was joined on the All Tournament Team by Chelsea Thornburgh, Tarece Lawrence, Dominique Valadez and Naylea Beltran-Mendoza.
UMFK Volleyball players, Kayla Iwata and Jamie Nena also made the Volleyball All Tournament Team.
For more information on the athletic program at UMFK, contact Carly Flowers at (207) 834-7571.