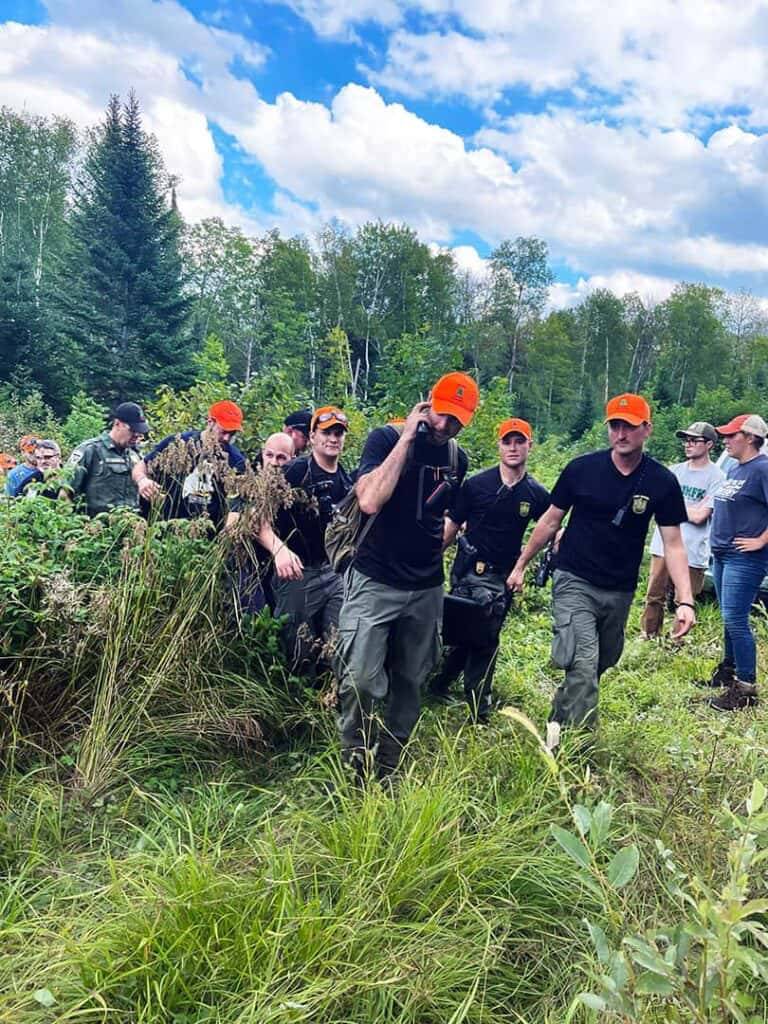 When Will Pols enrolled in the Conservation Law program at The University of Maine at Fort Kent in 2020, he didn't expect to be on an active search and rescue as a student. Earlier this summer, Pols joined eight other UMFK students in an emergency search and rescue mission in the Fort Kent area. Their knowledge and expertise were put into mobilization by the Maine Warden Service when an elderly citizen went missing.
"Being part of a live search impacted my experience as a student in a very positive way," said Pols, "It gave me the opportunity to connect with many different game wardens and agencies. The real-world experience has increased my drive to enter the field of conservation law enforcement even more."
The northernmost university has long been known for its hands-on learning opportunities. Several of UMFK's programs, including Conservation Law Enforcement, prepare students with certifications required by professional employers, in addition to the awarded degrees that attract students to the campus. Conservation Law Enforcement students have the opportunity to earn their Incident Qualifications Card (Red Card) certification, qualifying them for wildland firefighting operations. At the completion of their search and rescue course, students have the opportunity to become certified to respond to search and rescue events in the state.
Kale O'Leary, a Maine Department of Inland Fisheries and Wildlife game warden, is an adjunct professor at UMFK. He specializes in preparing students with the skills necessary to be successful during an active search and rescue.
"When I initially started teaching at UMFK, I knew there would be many positive takeaways from this involvement. I always hoped that in the future we would be able to use these students as highly trained volunteers, but their knowledge and assistance were extremely valuable to our recent search," said O'Leary, "Without their help, we would have been limited to grid teams made up of only Wardens. This would have significantly slowed our progress and very likely led to a very different outcome, as time was critical in locating this man."
UMFK's Conservation Law Enforcement program is one of very few in the eastern United States. Located in the midst of thousands of acres of wilderness, the natural resources available to the northern Maine campus are unparalleled. Students can easily practice their professional skills in the environments they hope to work in and enjoy outdoor recreation interests such as hunting, fishing, and snowmobiling that may have influenced their career paths.
The program is interdisciplinary, working closely with forestry and environmental sciences to ensure that students receive a well-rounded, multi-faceted education that allows them to choose from a variety of pathways upon graduation.
"The Maine Warden Service expects to lose 50% of its workforce over the coming years, so the demand for wardens is great for the foreseeable future," said Marilyn Epp, UMFK Assistant Professor of Criminal Justice and Public Safety. "Maine Forest service is in dire need of forest rangers. The education and skills that our program imparts makes applicants highly competitive in these high-demand professions."
Conservation Law students develop skills in investigative techniques such as interviewing, writing reports and affidavits, and evidence collection.
As far as what he thinks about the UMFK program, Pols says the certifications he has obtained have greatly increased his satisfaction with his degree path. He is grateful to have had the opportunity to participate in the active search.
"Overall, it impacted my experience as a student at UMFK in a very positive way, and I am very excited about what the future holds."
For more information about UMFK's Conservation Law program, visit the Conservation Law Enforcement page on the UMFK website.