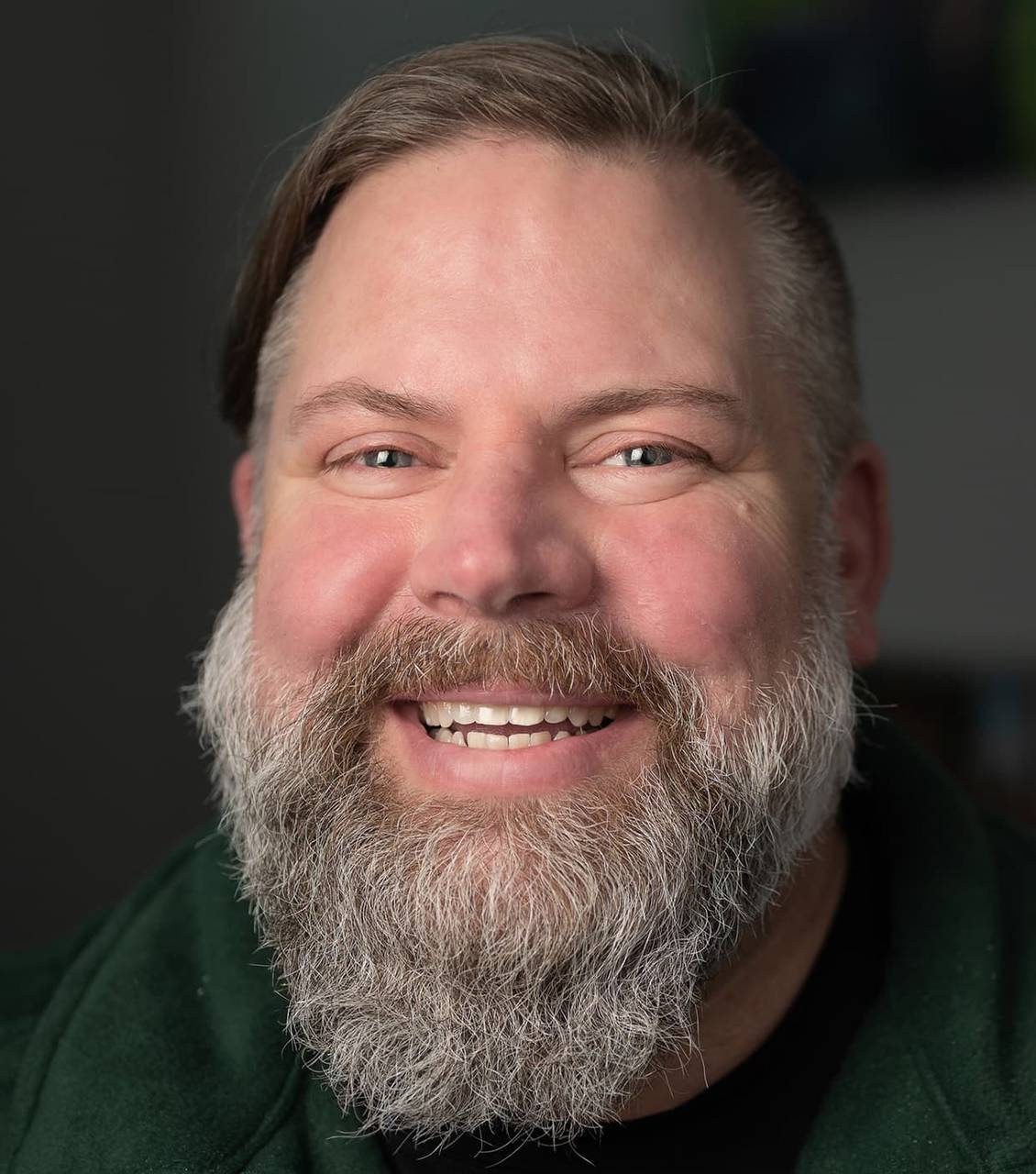 On April 28th, Maine Campus Compact celebrated its 22nd Annual Awards Ceremony at the University of Maine at Augusta to recognize outstanding work in public service and civic engagement by Maine faculty, students, and community and corporate partners. The University of Maine at Fort Kent Assistant Professor of Counseling and Behavioral Science Unit Chair Dr. Shawn Graham was one of the selected honorees.
Dr. Graham was one of three faculty members presented with the Donald Harward Award for Faculty Service-Learning Excellence, which recognizes individuals who integrate community or public service into their curriculum and who work to institutionalize service-learning.
"Dr. Graham is a treasured faculty member at UMFK. He is also well-respected among his University of Maine System faculty colleagues and our clinical practice partners in Aroostook County, in Maine, and beyond," said UMFK Associate Provost for Academic Affairs Erin C. Soucy, Ph.D., RN, "Dr. Graham is passionate about service learning as evidenced by the countless hours he spends with students outside of the classroom participating in service learning activities."
Dr. Graham is known for collaborating with colleagues across disciplines as well as working with community partners to enhance his students' experience. Last fall, he organized a Reunification Drill that included more than 80 students in the behavioral health, nursing, and public safety programs at UMFK and included community partners such as Aroostook Emergency Management Agency, AdCare Maine, and the Maine Centers for Disease Control. Students received training in Disaster Behavioral Health and Psychological First Aid prior to the drill.
Dr. Graham's expertise is in counselor education and supervision, which guides his work as an educator and his practice as a clinical counselor. He actively works to promote the well-being and mental health of individuals and communities by encouraging students to become engaged citizens. His work is focused on responding to community needs and challenging the stigma associated with mental illness and addiction. Through his work, he partners with numerous organizations, involving students in the planning and implementation of service projects and events.
Dr. Graham earned his Ph.D. in Counselor Education and Supervision with a concentration in Advanced Counseling at the University of the Cumberlands. He is currently the Unit Chair of the Behavioral Science program at UMFK. Dr. Graham has been working in the behavioral health field for more than 25 years. His primary research focus is peer support. He holds several licenses in the State of Maine: Licensed Clinical Professional Counselor; Certified Alcohol and Drug Counselor; Mental Health Rehabilitation Technician – Community; and is certified as a Disaster Behavioral Health Responder.
"Perhaps the best testament to Dr. Graham's dedication to quality education, service learning, and instilling a sense of civic pride among students is demonstrated by the number of his alum who return to campus to help with annual events, speak to students about the profession, openly discuss how meaningful their time was at UMFK, and serve as mentors and preceptors for our students," added Dr. Soucy.
The other two 2023 recipients of the Donald Harward Award for Service-Learning excellence are Camilla Bridge, Instructor and Lab Coordinator, Biology Department at Saint Joseph's College, and Anelise Hanson Shrout, Assistant Professor of Digital and Computational Studies at Bates College.
The award is named for Donald W. Harward, valued founder of Maine Campus Compact and former board member of national and Maine Campus Compacts. Award winners have shown clear evidence of reflection, community benefit, reciprocity with community partners, and a commitment to advocating for service-learning and/or community action on campus and beyond.
Established in 1994, Maine Campus Compact is a coalition of 16 member campuses whose purpose is to catalyze and lead a movement to reinvigorate the public purposes and civic mission of higher education. The coalition seeks to transform campuses in ways that develop better-informed, active citizen problem-solvers, stronger communities, and a more just democratic society. The group's philosophy is that campuses must be vital agents and architects of a flourishing democracy.
To learn more about the Behavioral Science program at UMFK, please visit the Behavioral Science program webpage.