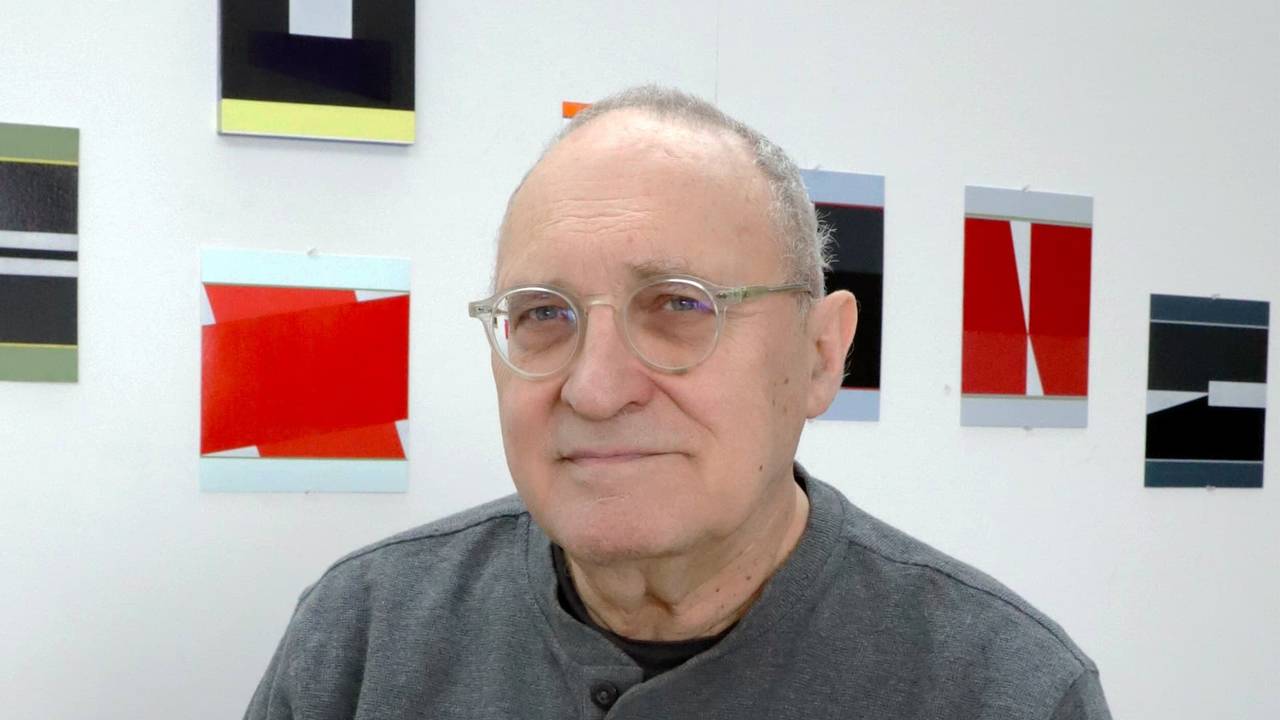 The University of Maine at Fort Kent is pleased to announce American abstract painter Don Voisine as the 2023 UMFK Honorary Doctoral Degree Recipient.
"Don has made significant contributions to the arts, not only in Maine but on a global scale," said UMFK President Deb Hedeen. "We are delighted to have the opportunity to recognize his distinguished achievements with an honorary degree from UMFK in the community where his passion for art began."
Voisine was born in Fort Kent in 1952. While a student at Fort Kent Community High School, he took evening art classes with Claude Picard at John F. Kennedy College and participated in a summer Museum Apprenticeship Program at the Maine State Museum in Augusta.
After graduation, he attended the Portland School of Art and Concept School for Visual Studies in Portland, ME.
Among his many awards and accolades, Voisine received an honorary bachelor of fine arts degree from the Maine College of Art in 2000. He was awarded a New York Foundation for the Arts painting grant in 2006 and has received purchase awards from the American Academy of Arts & Letters, The National Academy of Design, and the Portland Museum of Art. Fellowships and residencies include the Edward Albee Foundation, Montauk, NY; The BAU Institute, Otranto, Italy; the Sharpe Walentas Studio Program, Brooklyn, NY; and the Surf Point Foundation, York, ME.
Moving to New York City, NY, in 1976, Voisine fell in with a dance and theater crowd. From 1978 through 1985, he worked in various capacities with Ping Chong and the Fiji Company — a downtown Manhattan experimental theater group — building sets, running sound, stage managing, and technical direction. Voisine moved to Williamsburg, Brooklyn, NY, in 1985 to pursue and further his own work. He continues to live and work in Brooklyn.
Since 1997, Voisine has been a member of American Abstract Artists, an artist-run organization founded in 1936, and served as its president from 2004 to 2012. In 2010, he was elected to the National Academy of Design, where he served on the membership committee for nine years.
His work has been reviewed in Art in America; Art News; The New York Times; The Washington Post; The New Criterion; Village Voice; Hyperallergic; and The Brooklyn Rail.
Exhibiting regularly in the U.S. and Europe, Voisine's work was the subject of a 15-year survey at the Center for Maine Contemporary Art in Rockland, ME, in the fall of 2016. He recently had solo exhibitions with Robischon Gallery in Denver, CO, and Pamela Salisbury Gallery in Hudson, NY.
His public collections include Colby Museum of Art, Waterville, ME; Portland Museum of Art, Portland, ME; Berkeley Art Museum & Pacific Film Archive, Berkeley, CA; San Jose Museum of Art, San Jose, CA; Peabody Essex Museum, Salem, MA; Special Collection of the Library, Museum of Modern Art, New York, NY; Metropolitan Museum of Art, Print Department, New York, NY; National Academy Museum, New York, NY; Jane Voorhees Zimmerli Art Museum, New Brunswick, NJ; Texas State University, San Marcos, TX; Katzen Arts Center, American University, Washington, DC; Art in Embassies Program, United States Department of State, Washington, DC; United States Embassy, Annex, Beijing, China; Stiftung Konzeptuelle Kunst, Soest, Germany; and About Change Collection, Rottach-Egern at Tegernsee, Germany.
Voisine's work is represented by McKenzie Fine Art, New York, NY; Robischon Gallery, Denver, CO; Pazo Fine Art, Kensington, MD; Pamela Salisbury Gallery, Hudson, NY; dr. julius I ap, Berlin, Germany; and Floss und Schultz, Cologne, Germany.
In the past year, his work has been featured in Berlin, Brooklyn, Cologne, Denver, Lyon, and Monaco group exhibitions. Currently, Voisine is preparing for a solo exhibition at McKenzie Fine Art in New York, opening May 12, 2023.
Voisine will be presented with the honorary degree of Doctor of Humane Letters at the 141st Commencement ceremony held on May 6, 2023, at 10:00 am in the UMFK Sports Center.