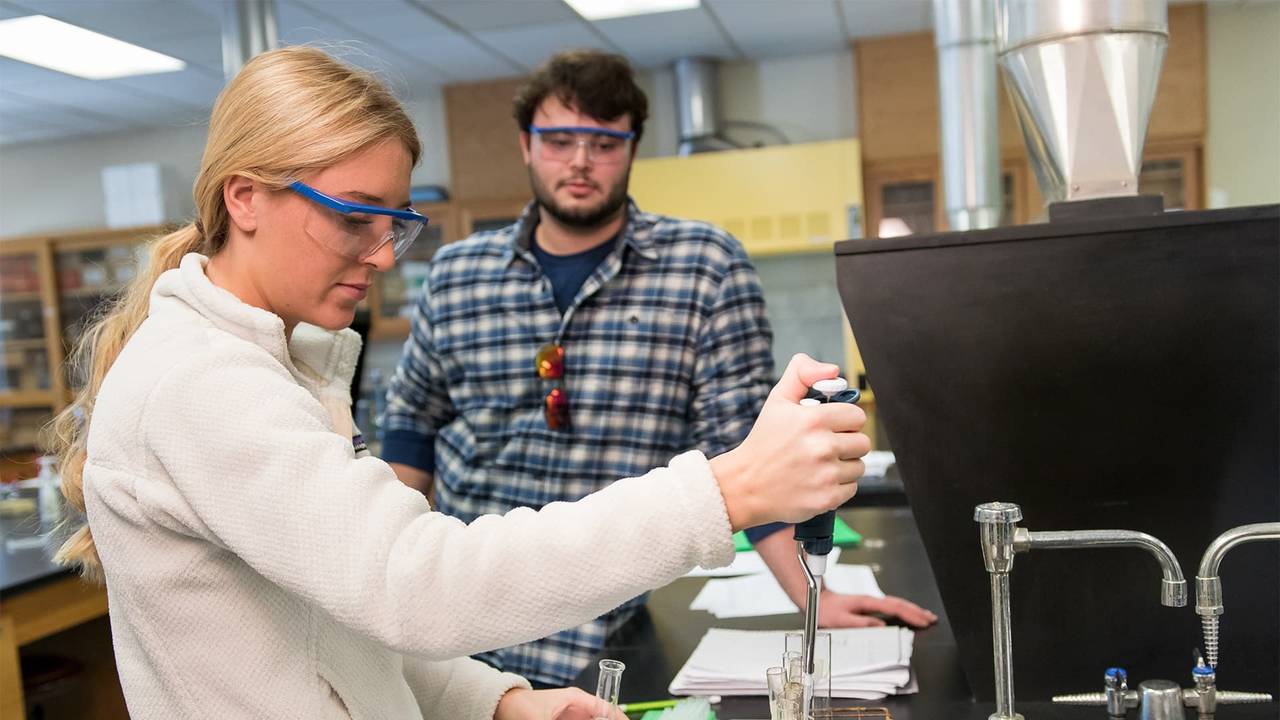 The University of Maine at Fort Kent will host Jobs for Maine Grads (JMG) Maine Career Exploration Badge Day and Bengal Bound Day on April 12th, bringing high school students to campus from around Aroostook County and beyond. This combined day provides added opportunities and flexibility to prospective students and their families who wish to attend.
JOBS FOR MAINE GRADS MAINE EXPLORATION BADGE DAY
The Jobs for Maine Grads Maine Exploration Badge Day is designed to help high school students make strides toward earning their Maine Career Exploration Badge. Time spent at the event will count toward the students' time requirements to earn the badge. The Maine Career Exploration Badge provides Maine high school juniors, seniors, and graduates with 40 hours of meaningful work experiences as well as a $500 academic award upon successful completion. The event will expose students to careers, employers, and post-secondary pathways to further their education toward their chosen path.
A large focus of the day is the Jobs for Maine Grads Career Fair. In preparation, high school sophomores, juniors, and seniors from Ashland, Caribou, Caribou Tech, Fort Fairfield, Fort Kent, Madawaska, St. John Valley Technology Center, and Wisdom had a chance to fill out surveys based on their interests. From these surveys, students will be provided a personalized map to engage and learn from various stations throughout the fair from subject-matter experts, including potential employers and faculty members.
Students will hear from community leaders, such as JMG President and CEO Craig Larrabee and UMFK President Deb Hedeen. In addition, they will be provided lunch, tour campus with the UMFK Admissions Team, network, learn about potential careers, and learn about UMFK as a possible pathway toward attaining their career goals.
"The JMG Maine Career Exploration Badge is an opportunity for our Maine juniors and seniors to connect with employers and become fully informed about different careers and how to obtain them," said JMG College Success Specialist Susan Dubay. "Being on the UMFK campus provides the opportunity for students to also learn how UMFK can be a pathway to their career of choice and to hear firsthand from instructors about what their classes will focus on."
Employers attending the event include Ambulance Service Inc., Irving, LandVest, Maine Department of Transportation, Northern Maine Medical Center, Seven Islands, and Twin Rivers. To help students obtain their 40-hour work requirement for the Maine Career Exploration Badge, employers will not only share their experiences but also allow students to complete all or a portion of their time by sharing their knowledge and experience through hands-on experience and job shadowing opportunities.
Attendees will learn about the free Maine Career Exploration Badge Camp being held this summer at UMFK from July 9th to July 13th. For more information, please contact Susan Dubay at (207) 834-7869.
BENGAL BOUND DAY
Coinciding with Maine Career Exploration Badge Day, the UMFK Admissions Team will be hosting Bengal Bound Day. This day is for accepted and interested students who have not yet applied to experience UMFK firsthand.
Prospective students and their families will tour the campus and meet UMFK students, faculty, and staff from various offices, who will be available to answer questions on topics such as residential life, career planning, and financial aid.
The day will begin with breakfast and a campus welcome. Students will attend the Jobs for Maine Grads Career Fair, panel discussions with current students, faculty presentations, have lunch in Nowland Hall, tour campus, and enjoy a social at the end of the event where they have a chance to win various prizes. Attendees will also have their names added to a drawing for the opportunity to win a free 3-credit course (non-transferable).
"Bengal Bound Day provides future Bengals the unique opportunity of experiencing life at UMFK before they begin classes," said Heidi Carter, UMFK Executive Director of Marketing and Brand Management. "Local students are often pleasantly surprised to find that UMFK offers more than they expected, and out-of-state students have the opportunity to become more familiar with the campus and the surrounding community. It also gives them the chance to meet some of their peers, staff, and faculty before they come for the fall semester."
A highlight of the day will be the opportunity for same-day Admissions decisions for attendees, and if you confirm, your deposit will be waived. Students should come prepared with their supporting documentation. They will also be able to learn about scholarships or other details about financing their education.
To register or for more information, please contact UMFK's Admissions office at (207) 834-7600 or toll-free at 1-888-879-8635. They can also be reached via email at umfklife@maine.edu.